Upon looking for more creative things to do with Jaidan on my off days, I came across 'tot school'. We've been doing similar activities with him, but now we have an official name with a not so official 'lesson plan.' Now this I like!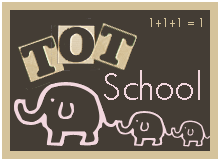 23.5 months old
Tot School is nothing more than intentionally providing your tot with age appropriate activities that are fun and engaging. By choosing specific toys and activities, we expose our tots to a variety of early learning skills. Mastery is not the goal, FUN is! From Carisa
I have no rhyme or reason for anything we did this week. Since I'm just getting started & working on organizing my stuff, we just played with things I had in the closet! So this is what we've been doing this week!
He wanted me to get this down, but quickly learned that it was no fun. Part of the tot school, which I love, is to stop when something is not fun to them. So here he is putting the last piece away. haha.
A little more about homeschooling…
The first link was a huge confirmation for me, in more ways than one. Ive had the preschool debate or at the least discussion come up more than once & after reading this Im confident in not having Jaidan attend somewhere. (And obviously not just this one article convinced me, but like I said, confirmed my decision) I love that I can be the one to teach my son & that I dont have to worry about him being 'social' or 'around kids his own age'… especially at the young age of 23 months! 😉 I don't know what God has in store as far as long term homeschooling, but I'm keeping my options open as I feel led. Homeschooling has definitely come a long way! I do still love the BSF preschool class he goes to on Wednesday mornings during the school year bc its very biblically based & those teachers rock! But thats for another post…
More fun blogs…
I can teach my child